Spotlight: Lambiek Fabriek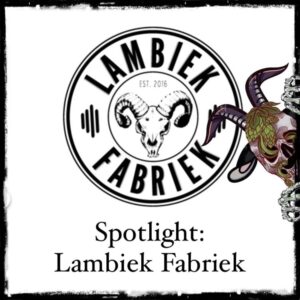 One of my favorite beer styles has to be Lambic – the Belgian beer produced by spontaneous fermentation. To you readers whom aren't familiar with Lambic – Lambic beer is characterized by a crisp, sour, fruity, funky and an acidic scent and taste. It's most often quite dry, and vinous. Lambic is often serving as a base for different beers, Kriek, fruit Lambic and of cause Gueuze which often is referred as "The Champagne of Belgium"
Ever since I tasted "Brett-Elle Oude Geuze" by Lambiek Fabriek last summer I have so curious about having more. Brett-Elle Oude Gueuze was the most stone fruit forward Gueuze I've ever had, and right away as my lips touched the rim of the glass I was blown away!
i just knew it, these guys know how to brew and blend high quality beer. I just had to seek more info, taste more releases and shine some light upon the guys behind Lambiek Fabriek!
Before I reached out to the guys from Lambiek Fabriek, I researched the deep interweb and to my luck, Lambic.info already had written quite an impressive in-depth story about the guys, so I didn't have to search fare and wide – the guys behind lambic.info was more than helpful, and let me lend some of their research.
Lets dive in, and shine some light upon the guys behind one of the perhaps more underrated Lambic operations on the scene – Guys, the stage is yours.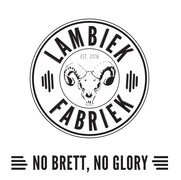 Lambiek Fabriek is a Lambic brewing and blendery located in Sint Pieters Leeuw established in 2016. They produce their own Lambic that is brewed on-site at Belgoo Brewery
Lambiek Fabriek produce their Lambic by a traditional Lambic recipe, that consists of approximately +/- 35% wheat and +/- 65% malted barley and aged pellet hops. They are in possession of a stainless steel koelschip (a shallow, flat metal pan called a coolship in English), which is divided into two equal halves of 1,200 liters each; thus, a full brew at Belgoo will fill the koelship.
By cooling their wort in koelschips, they make use of natural inoculation by yeast and bacteria native to the very limited geographical area, Payottenland in the Zenne valley near Brussels. Here there is the right composition of microorganisms in the air.
The fermentation of Lambic isn't something which is able year long, as it's only from mid October to mid May, where the average temperature in the area is approx. 15 degrees Celsius. In the summer, there are too many unwanted bacteria in the air.
Since 2016 they have released numerous Lambic and Gueuze variants, and have had their ups – downs and overcome the struggle of being 100 % independent owned. They work hard, push them self's. They have a strong will and do everything by themselves. That means brewing, bottling, cleaning and paperwork. They work under the motto: 'resting is rusting, sleeping is a waste of time and stopping is not an option – No Brett No Glory!
Since the beginning of 2020 Lambiek Fabriek have been a member of Horal – HORAL, an acronym for Hoge Raad voor Ambachtelijke Lambikbieren. In English – The High Council for Traditional Lambic Beers. They are a consortium of Lambic brewers and blenders that works together to promote Lambic beers, brewing, and culture in Belgium.
2020 was also the year where Lambiek Fabriek got Bio (organic) certified.
That means that when the Corona virus has loosen its grip on the world, Lambiek Fabriek will be part of the official 'Toer de Geuze' and their Lambic is in the next "Horal's Mega Blend".
Since the experience with my first Lambiek Fabriek beer last summer, I've gotten hold of almost the whole range of beers from Lambiek Fabriek which have all been under my loupe, and I have e few words about them to share with you guys!
The beers, which I've had where
Brett-Elle Oude Geuze
Fontan-Elle Young & Wild
Natur-Ella Organic Gueuze
Oude Kriek Jart-Elle
Jucy & Wild Black-Belle
Jucy & Wild Muri-Elle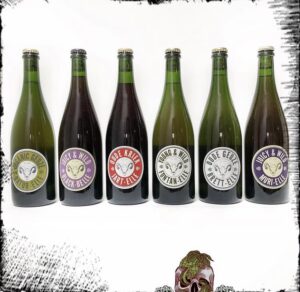 But before I'll share my thoughts about them, I'll present to you an interview I did with the guys of Lambiek Fabriek.
Interview with Lambiek Fabriek
Who is Lambiek Fabriek? Tell my a few words about the people behind?
We are:
Jozef Van Bosstraeten: Co-Founder Lambiek Fabriek, Master brewer of Lambiek Fabriek and Belgoo. Blender Lambiek Fabriek
Jo Panneels: Co Founder Lambiek Fabriek, Zythologist, Blender of Lambiek Fabriek
Jo Van Aert: Owner of Belgoo Beer, master brewer
We're all born and raised in the "Zennevallei"
How did you get into Lambic blending/brewing?
We started in 2009 on an experimental base, after drinking Oude Geuze in our local pub. After a few OG's and early in the morning, we declared that we also were able to create an OG. After a big hangover, we started it up.
We started with some carboys (Dame-Jeanne), a few liters of Lambic and some kg of sour Cherries. First carboy was exploded because we didn't put an airlock on the carboy. Lesson 1 was learned. Always put an airlock!
After a while, we bought some small materials, had the opportunity to have a wooden barrel (220l). After a couple of months an extra barrel, and so on.
At some point we had "too much" Lambic for our own consumption and we've asked ourselves the question. What will we do with this stock? Do we a big BBQ with everybody and lets drink it all, or, will we continue to invest in the idea. We took option 2.
The idea was to setup a blendery (like De Cam, Tilquin, Hanssens). We had a small warehouse, some Lambic stock and a lot of wooden barrels. The only problem was, it was difficult to get some wort from the other Lambic breweries.
There was only one solution – if we don't get it, we brew it by ourselves! We met Jo Van Aert (Belgoo beer) and we use his brew house to brew our Lambic. We installed the coolship and the barrel room in Sint Pieters Leeuw. In 2016, the Lambiek Fabriek was officially born
Which Lambic beer was the first one you guys ever tasted?
My grandmother had a café in Dworp and she served back in the days Winderickx and De Koninck. As a young kid, I must have had De Koninck. The first conscious purchase was Hanssens.
Was it hard to start out as a Lambic blendery/brewery? Which ups and downs where there?
Like all start-ups, it was/is tough. We started from scratch – we lost money, but also friends down the line. We made also the choice not to cooperate with an investor. That makes us 100% independent today and the process went step by step. We do everything by ourselves, brewing, bottling, cleaning and paperwork. We work under the motto: 'resting is rusting, sleeping is a waste of time and stopping is not an option.
Since the beginning of 2020 we're member of Horal and we're also Bio (organic) certified. So next year we will be part on the official 'Toer de Geuze' and our Lambic is in the next "Horal's Mega Blend"
Where do you get your inspiration? – And how do you come up with ideas for your blends? 
Honestly? We really don't know. Sometimes, some ideas pops-up and then we take a look if we can do something wit hit.  It's all about the taste
When blending beers, what's the most important thing? 
Be honest with yourself. When the beer isn't ready yet, or there is something not ok with the taste, don't use it! You must also be able to estimate how the blend will evolve. That's also important.
Is there a beer that you are more proud of then the other ones? Also do you guys also have one you consider the worst you have ever made? 
No, not really. I can still remember the first barrel that started to ferment from our first brew. Maybe that's the one we're the most proud on. 'Yes, we did it!'
The worst: In our experimental phase: we did something with Medlar. We threw it away!
What's in the pipeline for Lambiek Fabriek? Ever considered to play around with adjunct like vanilla and Tonka beans?
More is coming up this year. We have foreseen a second "organic" beer, with some fruits. Also an "Schaarbeekse" around the summer and … not only fruited beers!
What about Barrel usage? Will we see Lambiek Fabriek use barrel like brandy, cognac?
Yes, we have some Bourbon whiskey barrels from 'Brouwerij Het Anker in Mechelen'. They create also a single malt whisky.
A few weeks we did a small tasting of the Lambic, coming from these barrels – and yes, it's really nice!
Lastly, if you could only drink 3 different beers for the rest of your life, which would it be? And why?
It's a difficult one. It's a question that I receive often, but I don't really can't find the right answer. What I do know is that my last beer before I die will be a Rochefort 10!
---
My thoughts about of Lambiek Fabriek beers:
Brett-Elle Oude Geuze: Blend of 1, 2, and 3 year old Lambic.

Hi Ya I'm an all-star! – I imagine that's what this beer would sing, if it had the chance, because this is something worth seeking out. Super saturated funky stone fruit Lambic, all stemming from malt, yeast + bacteria, wood and time – beautiful. Right as I pop the bottle, and get it poured I see the beautiful hazy golden / orange color with a small white head. The Aroma and bouquet is thru the roof! When Lambiek Fabriek tells you "No Brett, No Glory" well, the know what they are talking about Brettonomyces drives this bad boy to town with a wonderful citrus, bright overripe Stone fruit, green apple and pears! As you fully immerse into this, then you'll also a mild woody notes, and some grassy / hay notes.
The taste is straight up follows the nose! Right away you'll it impacts you with a really prominent stone fruit taste, which leads you into flavors of green apple and pear. The beer also has a slight woody note to it, with some hay and wheat/oat like qualities. The finish is a quick almost cutting ending dry'ness with, it has no bitterness, It has a medium carbonation, with a light mouth feel/body. This was a seriously delicious beer! – Such an overlook Gueuze and perhaps underrated. I highly recommend you guys to try this beer
Fontan-Elle Young & Wild: Blend of 1 and 2 year old Lambic.

Pretty carbonated, and opened with a huge pop which unleashes a gusher! – stand by your sink or outside, when you open it. The color is a really beautiful Pale slightly golden, with some yeasty haze. This is really bubbly, like champagne, you'll get loads of bubbles. The aroma and bouquet really has a lot of punch! You'll get leather, wood with hints of vanilla and nutmeg. Great Brettonomyces character – even thought this only has 1 and 2 year old Lambic. You'll get vibes of citrus, green apple slight cidery. It's tart, has some minerals, and a slight subtle hint of bitterness. This was a lovely blend of 1 and 2 year old Lambic –
Natur-Ella Organic Gueuze: 100% Organic Gueuze blended from 1, 2, and 3 year old bio Lambic.

Yes! This is really like "Brett-Elle Oude Geuze" just in a more amped up version! Before continuing, BEWARE! This is also a gusher! Stand by the sink, and you're fine. This beer is also pretty carbonated and feels a bit harder in the mouth – slight over prickly. My eyes see a golden beer, some haze and a stable head as I pour the beer. I really liked the way the carb was, and the aroma and bouquet just delivers full force as the gushing sensation I got when I opened the bottle. No Brett, No Glory – Well, Brett is here! There is supercharged of citrus fruit and zest + pith. As the other Gueze blends from Lambiek Fabriek, there is a quite high level of stone fruit'ish character, but there is a plus in this blend – raw rhubarb and gooseberry! There is an underlaying sourdough vibe, and some wheaty undertones. You'll also get wood, and quite a high tannic vibe which combo-ed with the dry'ness sort a leaves you wanting more! Amazing Gueuze, thirst- quenching liquid gold!
Oude Kriek Jart-Elle: Traditional unfiltered blend of spontaneous fermented Lambic aged in oak barrels. Macerated with fresh cherries for 6 months.

Boom! Pop! Cork blew off, and covered my table in red liquid – damn this one was ALIVE! I initially get a wonderful aroma and bouquet, even without having anything in my glass. I pour it, and see this beautiful red color with a fine pink head. Aromas like cherry, almonds and marzipan combos perfect with the light Lambic'ish bouquet – Citrus fruits, green apple and wood. This is tart, but has a light hint of sweetness. This is really bright and fresh. and fruity – really good Kriek.
Jucy & Wild Black-Belle: Unique unfiltered blend of self-brewed, spontaneous fermented Lambics, aged in oak barrels and macerated with black currant (+/- 300 g/l).

It's Alive!!!! I'm beginning to see a pattern, all of the 750 ml bottles I've pop'd have been gushers – really lively carb, and punchy. But also must emphasize, that this is Lambic! You gotta expect the unexpected, as this beer is alive and on the side, the fruited ones sometimes contain some residual sugars. Luckily i was at the sink, and I was really prepared – glass got filled, and no drops spilled.
In the glass I see a beautiful dark purple color with a stable pink foam. Aromas and bouquet of blackcurrant, gooseberry but Lambic wise, you'll get wood, citrus, apple – but the seem dubbed, and not that pronounced with makes this fruited Lambic seem a bit one-dimensional. ATM my favorite fruited blend is the Kriek.
Juicy & Wild Muri-Elle: Unique unfiltered blend of self-brewed, spontaneous fermented Lambics, aged in oak barrels and macerated with blackberries (+/- 300g/L).

First off, this was actually the first of the fruited variants which didn't mess up my kitchen, by gushing all over – Right away I got to pour it, and this wonderful sort of Rosé /Golden colored beer with a small pink head is unveiled in my glass, with a steady soft carbonation. Very pungent aromas rise up, you'll get a bucket load of berries, some lactic yogurt, jammy, floral – sort of that vibe you get from honey impurities. Underneath the fine delicate aromas, you'll get that wonderful Lambic bouquet – that overripe citrus sort of like lime and orange, under ripe green apples and wood with a hint of nutmeg. Taste is just like the nose, only thing is that it's sharper – quit high acidity from the fruits, but not in an unpleasant way. I must point out, that this beer has a lot of kick and is more concentrated than the other fruited Lambiek Fabriek variants – Like their Kriek, which I absolutely love. This was really excellent, and a good blackberry forward Lambic.
Conclusion:
I feel that Lambiek Fabriek has their blending game on point, really flavorful Gueze blends that are stunning – I will seek out more bottles, and cellar them! Really want to see, how they are a few years down the road.
Thanks a ton to the guys from Lambiek Fabriek for lending pics and wanting to take part in a interview. Also want to thank Lambic-info and of cause thank you guys for your time, and I hope you'll consider giving Lambiek Fabriek a go – delicious Lambic beer, from passionate people.
Yours truly,